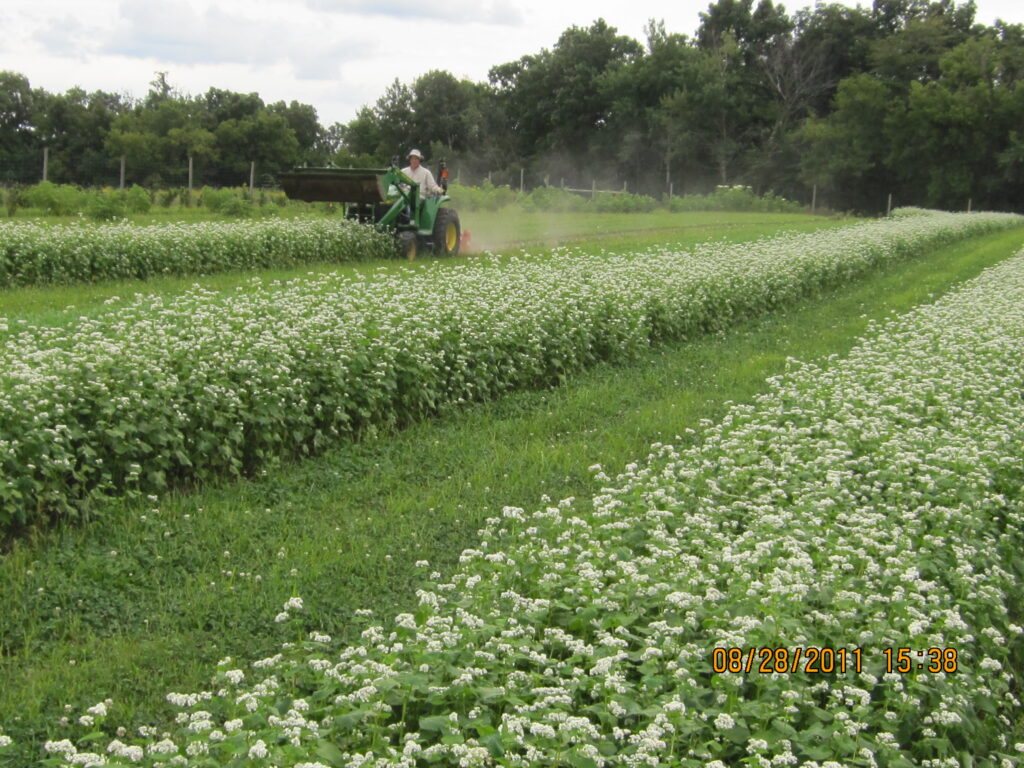 Soil Preparation
Fertility management at Blue Fruit Farm started in 2008. We cover-cropped the field with organic oats and wheat undersown with organic red clover seeds. These cover crops were selected for their ability to scavenge nutrients, suppress weeds, add organic matter, and prevent erosion. Instead of harvesting these crops, they were tilled back into the soil as a green manure to maximize their soil building potential, all for the sake of our future trees and shrubs. Buckwheat followed these cover crops in 4 feet wide, tilled windrows. Buckwheat grows quickly in our zone 4 climate. It is an excellent cover crop for suppressing weeds and building soil. It also produces beautiful white blossoms, providing pollen for native pollinators and lush foliage, as you can see from the photo! In addition to cover-cropping, there was a fair amount of rock-picking done to provide our plants with the conditions they need to grow strong, deep roots.
We did several soil tests during our preparation years. We added a balanced mineral mix, 0-2-12, provided by the Midwestern BioAg, Inc. based in Utica, MN. The mix included potassium sulfate, potassium magnesium sulfate, phosphate rock, calcium sulfate, dehydrated chicken manure, manganese sulfate, copper sulfate, borate and zinc sulfate. Sulfates were preferred due to the soil acidification they provided. We also added their Chicken Crumbles CWP Pellet 5-3-2 product, which is OMRI listed.
Due to their preference of acidic soil, blueberries presented a unique challenge. We added peat moss and composted horse manure to blueberry windrows to lower the pH of the soil, as well as sulfates. Incorporation of small grains as a green manure also aided in acidification. Elemental sulfur pellets are applied to blueberries as needed after soil testing for pH levels. Sulfur pellets have the advantage of slow release, so we don't burn the plants as we slowly lower the pH.
We take pH readings twice a year. Our soil pH started at between 6.8-7.2. We are now seeing readings of 4.5-6.5 around the blueberry bushes.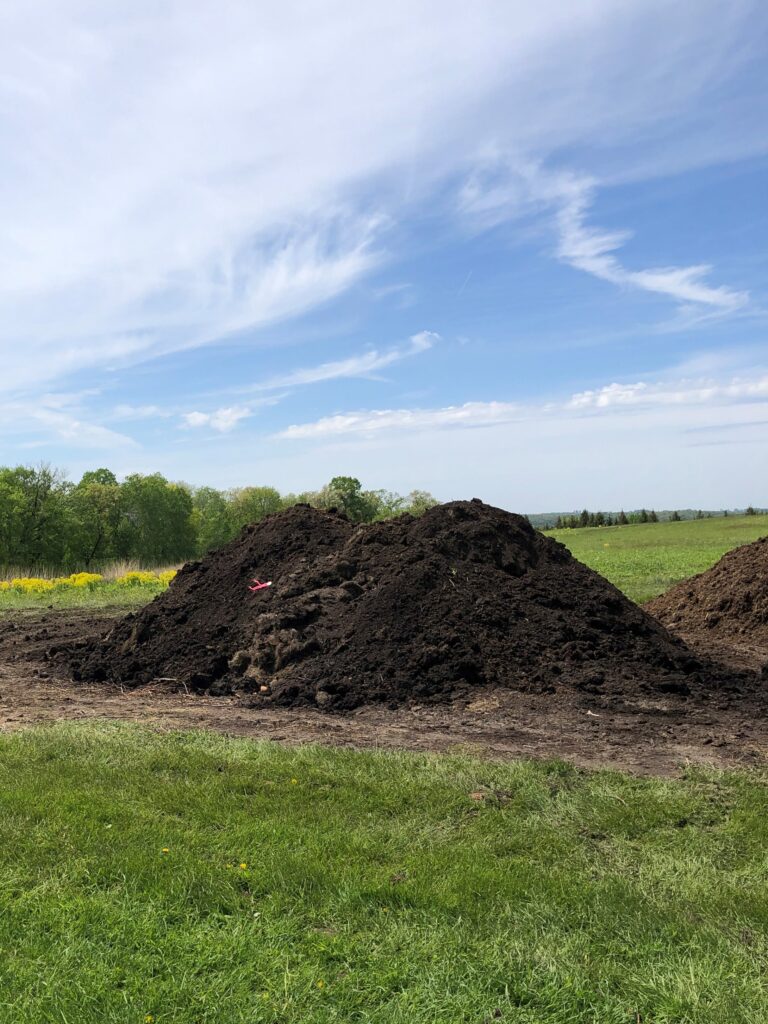 Ongoing Fertility Practices
While planting, we added more composted horse manure mixed with peat moss to the soil around each plant. Horse manure continues to be an important source of plant nutrients at Blue Fruit Farm. Already mixed with hay and sawdust horse bedding, we source our manure from Barb Schuler in Witoka, MN. Jim actively composts this manure, chipped fruit prunings, and grass clippings from mowed rows between shrubs to make our own fertilizer. You can see this nutrient rich fertilizer steaming with microbial activity! Records are kept of the turnings and temperature as per NOP Regulation for organic certification. The C:N ratio is determined by an easy-to-use online calculator.
We will continue to do annual soil testing. We have also done tissue sampling on blueberries when needed. Additional sulfur pellets are applied periodically to keep the pH in the 4-6 range. Occasionally, we have used a kelp foliar feeding, Eco-Kelp, to give extra micro-nutrients to plants when they are in their initial stages of growth. Eco-Kelp is OMRI listed.