Our Fruits
At Blue Fruit Farm we have a wide variety of fruit available throughout most of the growing season. Please click on an image below to find out about our wonderful selection!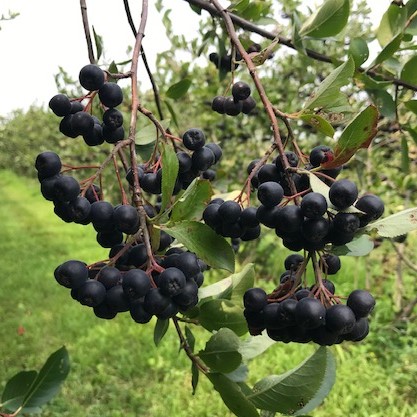 Fresh & Frozen Fruits
Blue Fruit Farm sells fresh fruits in 5 lb cardboard boxes and frozen fruits in 5 lb BPA-free double-lined plastic bags. Fresh fruits are only sold in season. Frozen fruits are sold as supplies last. We do not usually have frozen fruits available year round.
Our fruits are hand harvested at peak ripeness. We have overhead netting for bird protection. Blueberries and black currants are picked daily during the season. Other fruits are harvested at least twice weekly. After harvest, all fruits are chilled and stored in our walk in cooler. Leaves, stems and other debris are removed from fruit before packing.
Fresh fruit availability:
Honeyberries – early to mid June
Black currants – July
Blueberries – July and August
Aronia berries – August
Grapes – August and September
Apples and Pears– August and September
Elderberries – September until frost