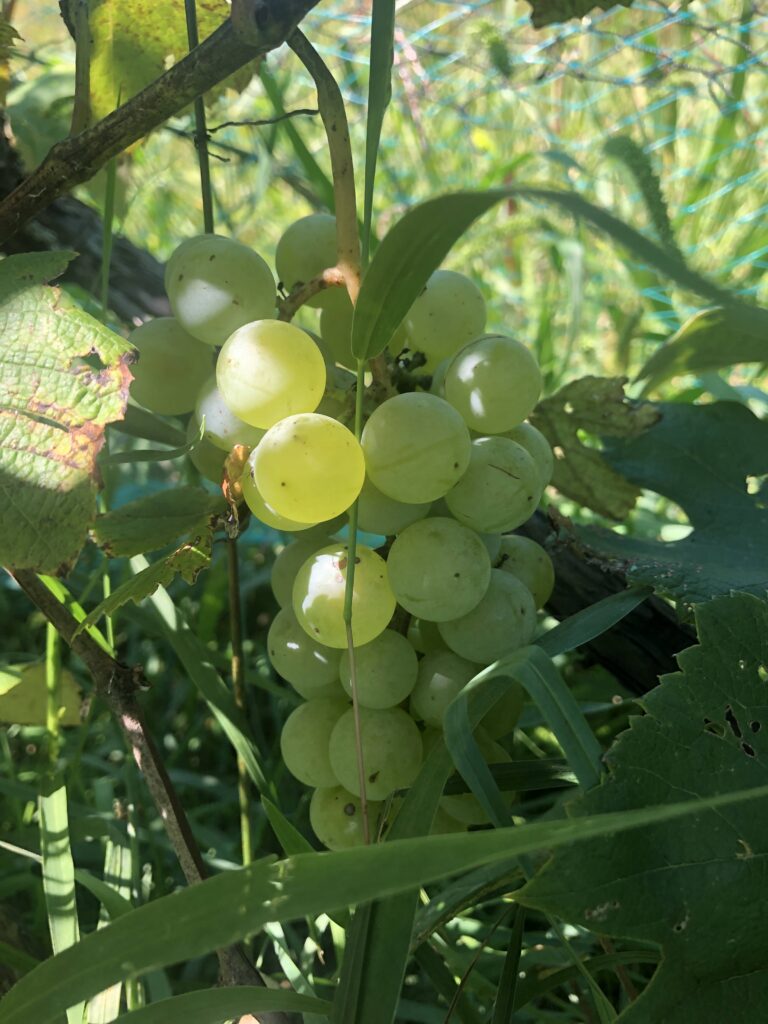 Grapes
Edelweiss
The Edelweiss grapes originated in Osceola, Wisconsin and then were developed by Elmer Swenson and colleagues at the University of Minnesota and released in 1978. It was first introduced as a table grape, but it later became an important grape cultivar for white wines. Edelweiss is considered a cold hardy resistant variety and can resist temperatures as low as -15°F.
Bluebell
Bluebell grapes are another University of Minnesota hybrid released in 1944. They are used as a table grape and in juice and jelly. It is an early ripening, blue-seeded variety with a mild Concord-like flavor.
Concord
The Concord grape was developed in 1849 by Ephraim Wales Bull in Concord, Massachusetts. They are often used to make grape jelly, grape juice, and grape pies. Concord grapes also make delicious table grapes, though, they are not typically commercially available in stores.
Apples
Haralred
Haralred Apples were developed from a Haralson apple tree in La Crescent, Minnesota. The flesh is firm, crisp, tart, and juicy. They are well suited for fresh eating and cooking.
Golden Delicious
Golden Delicious is one of the 15 most popular apple cultivars in the United States. It is a large, yellowish-green skinned cultivar and very sweet to the taste. Prone to bruising and shriveling, it needs careful handling and storage. It is a favorite for salads, apple sauce, and apple butter. It is not closely related to Red Delicious.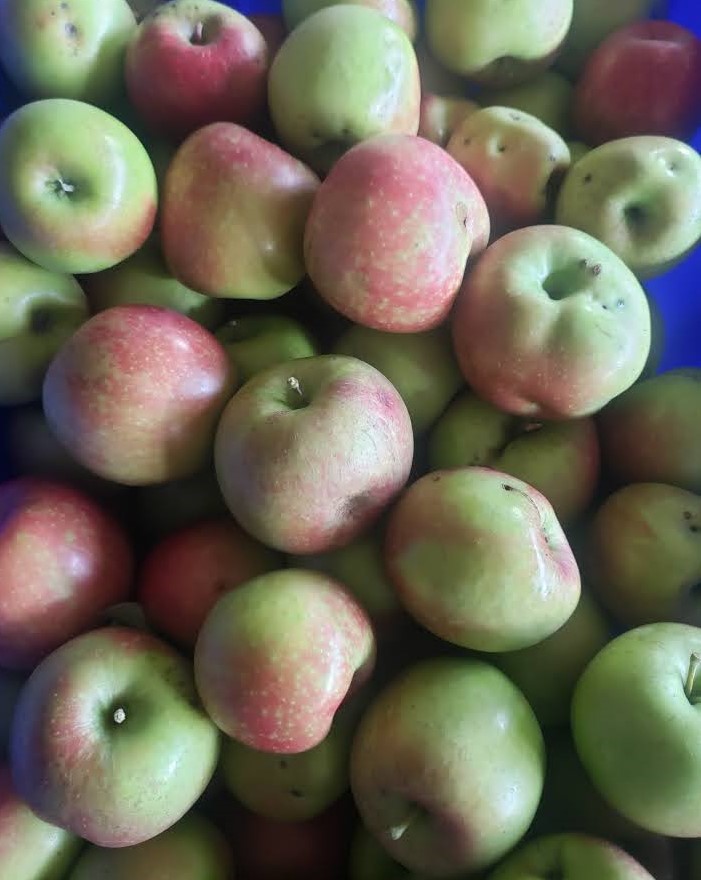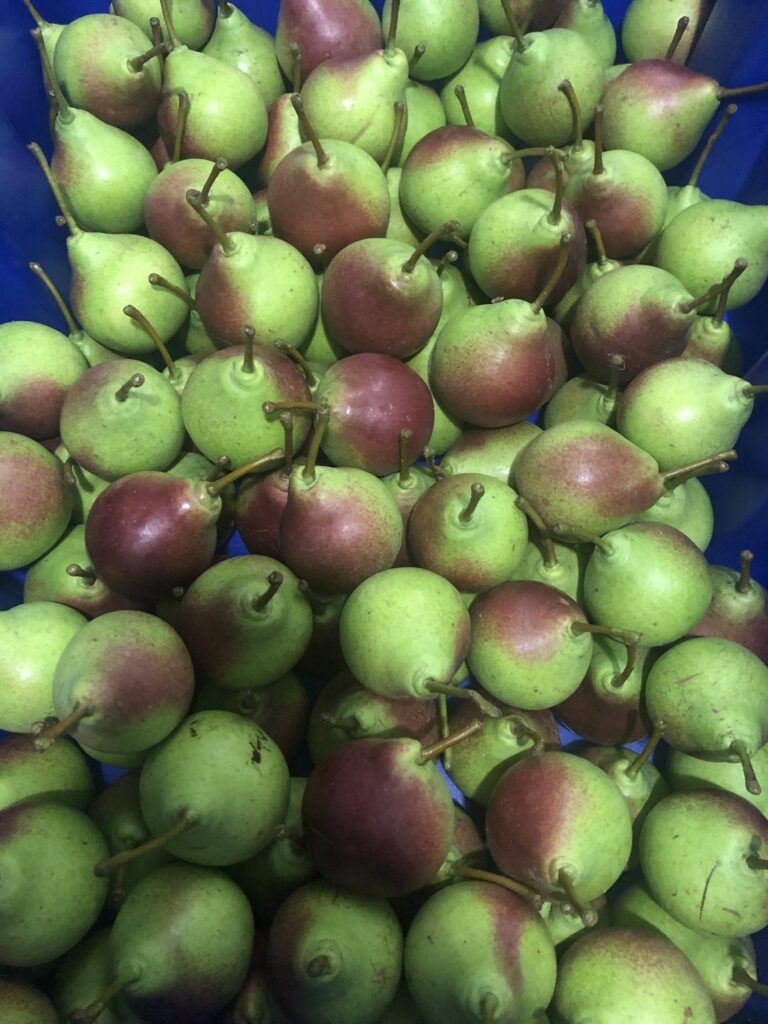 Pears
Summercrisp
Summercrisp is a cold-hardy, early-season pear that has been introduced by the University of Minnesota for use in cold climates, where most pear cultivars survive poorly and often do not fruit. This cultivar's name connotes its early harvest season and also connotes the fact that the fruit is best consumed without having been ripened; the eating quality is highest while the flesh is firm and crisp.
Parker
The Parker pear is a medium to large tree that was introduced by the University of Minnesota in 1934. The Parker Pear is native to Minnesota and was introduced as a cold-hardy pear tree. This tree is used as a food source by birds and mammals. The pears have a sweet taste and crisp texture.
Plums
Varieties & Sources
The varieties we grow are Semi-Dwarf trees. These include Alderman, Mt. Royal, Ewing Blue, Todd and Northern Blue. All our trees are hardy in zone 4. We sourced the Semi-Dwarf trees from St. Lawrence Nurseries in Potsdam, NY and from Woodstock Nursery in Wisconsin. Most of our plums are sold wholesale, as it has been difficult for us to get quality looking plums for fresh eating. We make plum puree combining all varieties. Jams we make from our puree are Plum Jam, Plum Aronia Jam, and Blue Fruit Medley Jam.
Alderman
It's a plum that ripens in late August. The fruit is burgundy red and excellent for eating fresh or made into preserves. The fruit is soft and juicy. The bush grows to reach 10 to 15 feet tall. Because we just planted these in 2018, it will be several years before we have Alderman plums for sale.
Ewing Blue
This freestone variety is also a prune-type plum, with firm, sweet, yellow-green flesh. It ripens in early September. It is good for fresh eating. Prunus domestiva Quebec origin. It's an European blue plum. The trees flower later than our other plum trees and pollination has been an issue.
Mt. Royal
This freestone variety is also a prune-type plum, with firm, sweet, yellow-green flesh. It ripens in early September. It is good for fresh eating. Prunus domestiva Quebec origin. It's an European blue plum.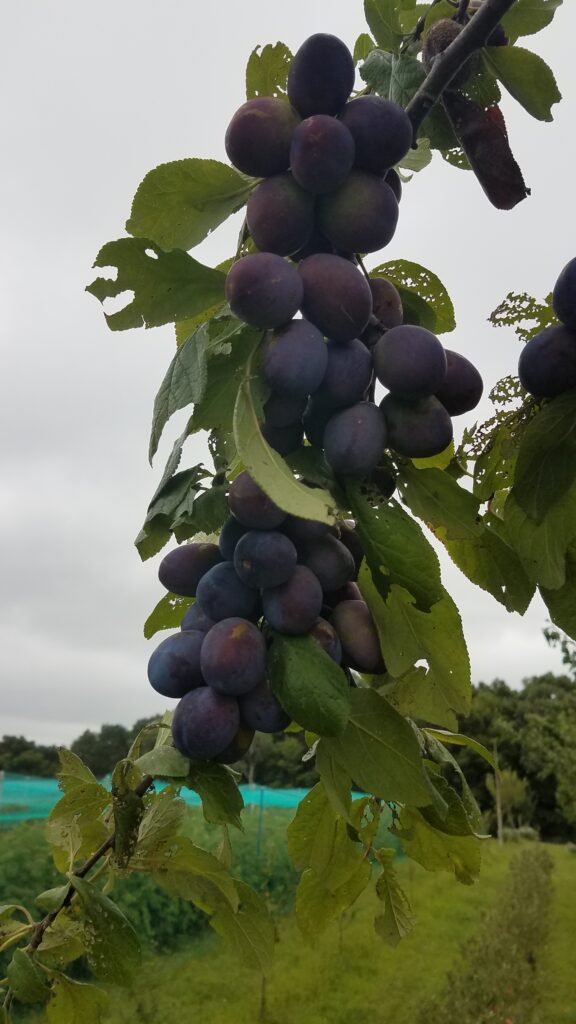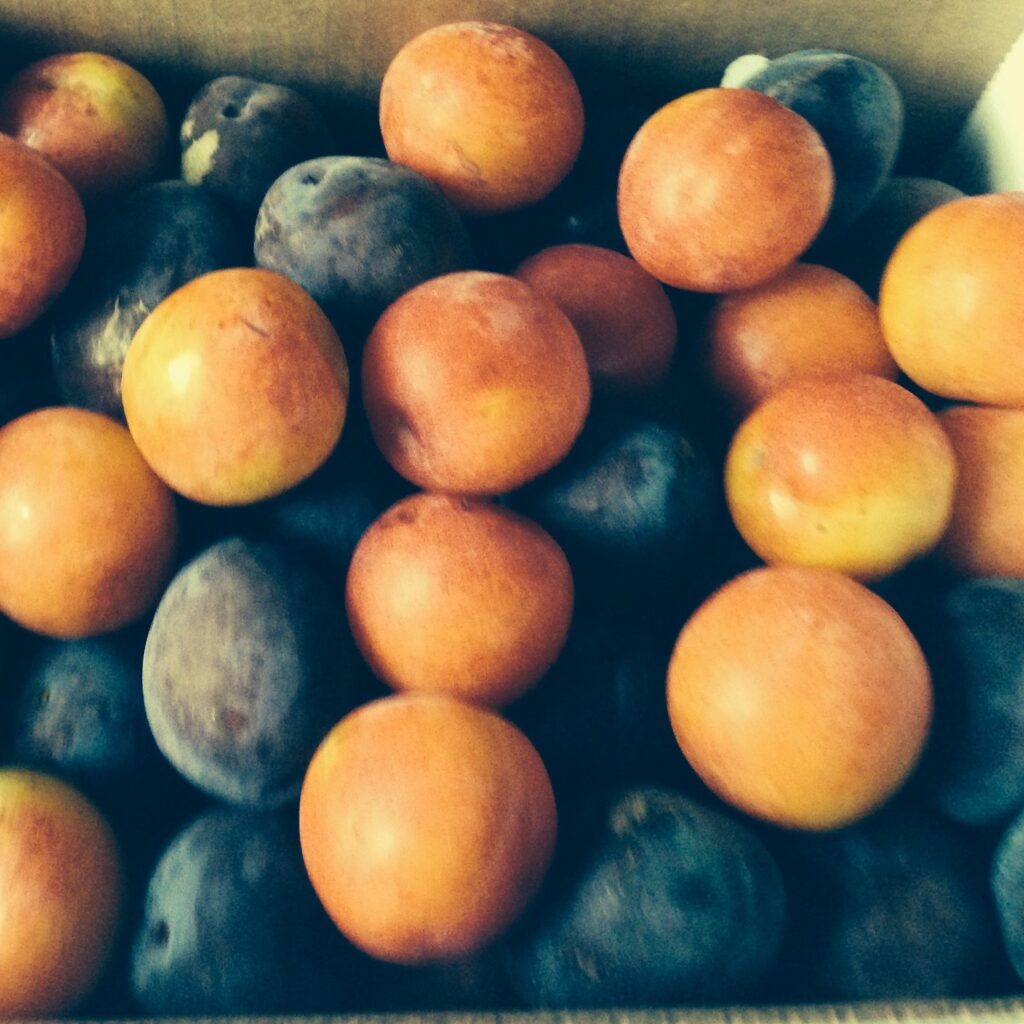 Todd
This European-type prune plum is large and deep blue. It is excellent for canning and fresh eating. Prunus domestica sp. Todd produces very well for us.
Superior
It's considered one of the best plums on market. It produces fruit with dark red skin and yellow flesh. Sweet and juicy. It ripens in late August. One tree can produce a lot of plums, but usually every other year.
Northern Blue
We are not sure these Northern Blue plums sourced from St Lawrence Nursery are actually Northern Blue, because they are yellow with red flesh. But they are super sweet and juicy. They are much smaller than our other plums, but combine well.